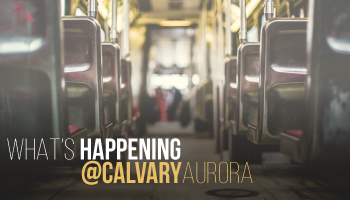 PASSOVER SEDER DINNER – TICKETS THIS WEEKEND MARCH 17-18: The Jewish Community Outreach Ministry (JCOM) will be selling tickets for the Passover Seder Dinner before and after each service at the Ministry Center. The cost is $15 per person. More info: Cathy McDaugale at
2018 MARRIAGE RETREAT APRIL 27-APRIL 29: Early registration ends this weekend: $280 until March 18. Space is limited; sign up at the Ministry Center. Questions? Contact Jean Vikdal at 303-912-4788 or
MARRIAGE PRAYER NIGHT- MARCH 19: Married couples that want to grow in relationship with each other and the Lord gather every third Monday at 6:00pm in the café for prayer. Call Debra Montano at 720-648-8579.
NEXT WEEKEND - MARCH 24 & 25: Joel Rosenberg will be here at Calvary Aurora for ALL our weekend services. Joel will be sharing a message looking at the power of the gospel from someone who lives in the Epicenter: Israel - invite your family and friends!
INVITE EVERYONE - BRING SOMEONE! VICTORY RESURRECTION WEEKEND 2018: Join us for one of our family services. Saturday night on March 31 at 4pm & 6pm and Sunday morning, April 1 at 6:45am, 8:45am and 10:45am. Children's Ministry will be available for all services. Invitations are at the Welcome Center or Ministry Center desks today.
OPERATION ANDREW: This simple tool in the bulletin this week, which will also be sent out in a separate email, is to encourage you in friendship evangelism. It is based on John 1:40-42, which says:
One of the two who heard John speak,and followed Him, was Andrew, Simon Peter's brother.He first found his own brother Simon, and said to him, "We have found the Messiah" (which is translated, the Christ).
And he brought him to Jesus.
Look for those who need Christ, pray daily for them, build bridges of friendship, share the gospel and invite them to church.
GOOD FRIDAY – MARCH 30: Resurrection Weekend will begin with a Good Friday Service from 12 to 1 pm on Friday, March 30, remembering the cross and the price our Savior paid to redeem us. There will be no Children's Ministry classes or Nursery available.
EVANGELISM 101 – 4-WEEK CLASS STARTS SATURDAY, APRIL 7 FROM 10:30AM TO NOON - AGAPE ROOM: Learn to share your faith. Cost: $16 (due at first class). To sign up, email: . More info: Dale Keith at 303-905-8097.
PURSUE NIGHT OUT: Join the young married and engaged group at Boondocks in Parker for a night of fun on Friday, March 30 from 7pm-10pm. The cost is $20.95 per adult, and pizza will be provided. Please RSVP by March 23; email: Rachel Austin at or call 720-277-1932.
ENCOURAGING THE MINISTRY OF U-TURN FOR CHRIST: U-turn for Christ is an addiction recovery ministry in Colorado Springs. We're taking a team of men and women down on Thursday, March 29, leaving Calvary Aurora at 4pm. More info: Buck Beckholt at 303-757-2533 or
WOMEN'S BIBLE STUDY: Hearts of Iron Feet of Clay by Gary Unrig. It's not too late to join us on Tuesday for the morning or evening study. You can purchase the book online at Amazon or download it on Kindle. Workbooks are $5, and are available at the class. Limited childcare is available for morning sessions only, for children four and under. More info: .
CALVARY CHRISTIAN ACADEMY ENROLLMENT FOR 2018-19 SCHOOL YEAR: Limited space available in all grades K-8. To apply go to http://calvaryaurora.org/academy/admissions/. More info: Shandelle Grosbach at 303-628-7200 x245 or .
PLAN AHEAD:
Good Friday Service – March 30
Resurrection Weekend – March 31- April 1
Baptism – April 4
Servant Appreciation – May 6
BOOKSTORE: The Bookstore is currently closed for renovation. Copies of our studies are available at the cafe after services.
Book of Month: Love: The More Excellent Way by Chuck Smith
MISSIONS PRAYER: Pray for Pastor Jose Hernandez of Hope Central Watts as they reach the lost with the Gospel– one housing project at a time. Email encouragement to